Heartland POS Review
Product Name: Heartland Restaurant POS
Product Description: A competent restaurant POS system with plenty of basic features and integrations for just about any-sized restaurant.
Offer price: Starting at $39/mo.
Currency: U.S.
Ease-of-Use

Features

Pricing

Integrations

Customer Support
Before we get into the nitty-gritty of this restaurant POS system review, you should know first that Heartland POS (also known as Heartland Restaurant) is under the umbrella of Heartland Payment Systems, which is a payment processing company, founded in 1997 by Robert Carr.
The company has grown to become one of the largest payment processing providers in the United States, and in addition to payment processing, Heartland of course also offers a range of point-of-sale (POS) systems designed to help businesses manage their operations more efficiently.
We mention this because we are not especially fond of POS systems that are not restaurant industry specific. Instead they are more of an add-on to a company's portfolio instead of the main focus of the company. When looking for the best restaurant pos system, it's important to take this into consideration.
Heartland Payment Systems is a payment and credit card processing company first, and a POS company second. With that said, we wouldn't place them alongside the best restaurant POS systems, but they have still produced a decent restaurant POS.
How These POS Reviews Work
For those of you who don't know, these are how my reviews work: I basically use my connections to find a restaurant owner I know who is using the POS system I am reviewing and ask them if I can jump on it and get to know it more intimately. I then ask about and get their feedback and experience with the system. I also get the reactions from other restaurant owners and managers I know who are using it, as well as online feedback. In this way, we have a complete collaboration of thoughts and opinions, not just mine.
Overview of Heartland POS System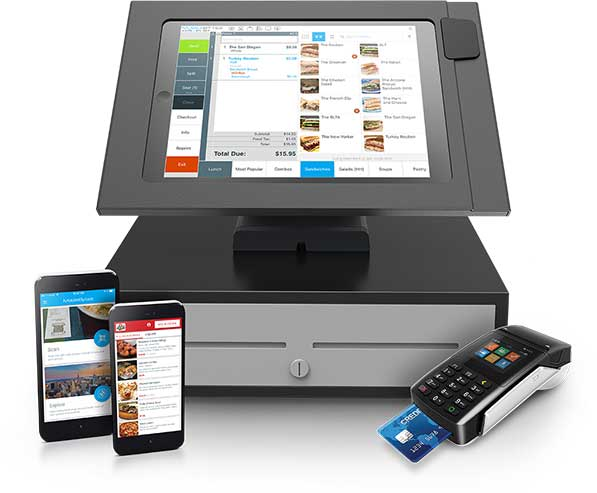 Heartland Restaurant POS includes both POS hardware and POS software solutions built for restaurants and bars, and the Heartland Retail POS system, which is built for retail businesses.
At its core, it functions as a simple, easy-to-use cash register. Its user interface is customizable, allowing for quick menu changes and order customization on the fly. Furthermore, its inventory management capabilities ensure that you know when products are running low or need to be restocked.
Heartland Payment Systems Controversy
Over the years, Heartland Payment Systems and its POS systems have been under fire for both incompetence on the security end of things, as well as secretly tacking on unauthorized fees to bars and restaurants during the pandemic. So in this Heartland POS review, we will be looking about both the physical capabilities of their POS system, as well as the perception of the company itself, ethically speaking.
Heartland Payment Systems Data Breach
In 2008, Heartland Payment Systems experienced a major data breach that exposed the personal and financial information of millions of customers. The breach was caused by a piece of malware that was installed on Heartland's payment processing system, and it led to a number of lawsuits and investigations. In response, Heartland implemented a number of new security measures to protect its customers' data, including end-to-end encryption and tokenization.
Heartland Sued For Alleged Unlawful Fees
In 2021, multiple restaurants sued Heartland Payment Systems for "dramatically increasing" their monthly fees without warning or consent. Some of these restaurants had already closed down because of the pandemic, yet Heartland allegedly increased hidden fees anyway and made millions off it.
Not exactly what you were expecting when you decided to look for the best restaurant POS system was it? Still want to read on? Sure, that's what we're here for. If you can get past what this company has allegedly done, then by all means, let's take a look at their POS system.
Make Sure to Check Out My #1 POS System…
Who is Heartland Restaurant For?
Heartland has both a restaurant POS system, as well as a retail POS system, so we wouldn't say that they specialize in POS systems for restaurants. With that said, they are able to accommodate both larger restaurants as well as independent restaurants. Here are the types of venues that Heartland claims to be able to accommodate:
Full-service restaurants
Quick service restaurants (QSRs)
Fast food chains
Cafes and coffee shops
Bars and nightclubs
Food trucks and mobile vendors
Pizza shops and delivery businesses
Ease-of-Use
Rating: Good
Heartland Restaurant POS is designed to be user-friendly, with an intuitive interface that is easy to navigate. This POS system has a simple layout that allows users to quickly find the features they need. This makes it easy for restaurant and bar staff to learn how to use the system, even if they have never used a restaurant POS system before.
One of the main reasons for the ease of use of Heartland POS is the customizable menu screens. Users can create menus that are tailored to their specific needs and preferences. This type of menu management allows staff to quickly find and select items, which speeds up the ordering process.
Heartland POS Features
Rating: Good
Heartland Restaurant POS has a solid set of key features for running your restaurant. We wouldn't say they will blow you away compared to other POS systems on the market, but they get the job done. Here's a list of the main features as a part of their restaurant POS software.
Order and Menu Management
With the Order Management feature, servers and bartenders can take orders, customize them, and track them with ease. This basic feature also enables guests to split checks, pay via mobile payment at the table and make online payments, making the payment process more convenient for customers.
Customizable Menu Screens
With Heartland POS, businesses can customize their menu screens to meet their specific needs. The feature allows restaurants to add, remove, and edit menu items quickly, as well as customize the floor plan. It also enables them to categorize menu items and set up pricing levels for different types of customers.
Split Checks and Bills
Splitting checks and bills is a common occurrence in the hospitality industry. Heartland POS makes the process easier by allowing the restaurant staff to split checks and bills quickly and accurately. This key feature also enables businesses to apply discounts and taxes to specific items or orders.
Table-side Ordering Options via Handheld Devices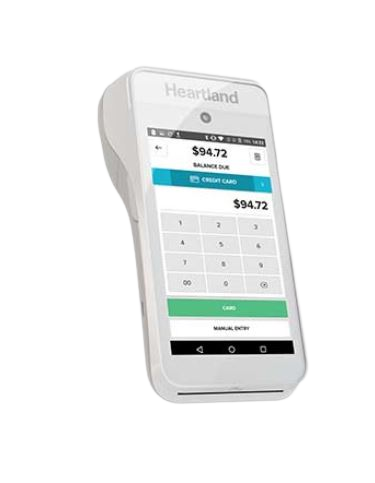 Heartland POS's Table-side Ordering feature is perfect for full-service restaurants. It allows staff to take orders directly from customers at their tables using handheld devices. Guests can also scan a QR code and order and pay directly from their phones.
Inventory Tracking
Heartland POS's Inventory Tracking feature allows businesses to keep track of their inventory as it is depleted from the POS system each time a menu item is ordered. The feature also enables businesses to set up alerts when supplies run low, ensuring they never run out of essential items.
Real-Time Monitoring
Heartland POS's Real-Time Monitoring feature allows businesses to monitor their operations from anywhere in real-time. The feature provides businesses with insights into sales, inventory, and staff performance, among others.
Employee Management
The Employee Management feature simplifies the process by providing restaurants with tools to manage their staff effectively. The feature includes time tracking tools, scheduling capabilities, and payroll management.
Scheduling Capabilities
Sort of a sub-heading of Employee Management. Heartland's Scheduling feature simplifies the process by providing restaurants with an easy-to-use scheduling tool. The feature allows businesses to schedule their employees based on their availability, job roles, and other criteria.
Customer Loyalty Programs
The Customer Loyalty feature enables restaurants to set up customer loyalty programs easily. This is important for both independent restaurants and larger restaurants alike. The loyalty feature also provides restaurants with tools to track customer purchases and allows guests to easily see and redeem their points.
Pros & Cons
Pros
Easy to use: The Heartland POS is user-friendly, which means that employees can quickly learn how to operate it without any extensive training. The system comes with an intuitive interface that makes it easy to navigate, making it a great choice for making your restaurant management more efficient.
Customizable: The system is fairly customizable, which allows businesses to tailor the system to their specific needs. This means that businesses can create a unique experience for their customers and tailor their operations to their specific business model.
Comprehensive: The Heartland POS system offers a range of features that make it an all-in-one solution for businesses. This includes inventory management, order management, and employee management, among other things.
Scalable: The system can be scaled to meet the needs of businesses of all sizes. This means that businesses can start with a basic system and upgrade to a more comprehensive one as they grow.
Security: The system is designed to be secure (especially after the 2008 fiasco), which means that businesses can be confident that their data is protected. Heartland POS has implemented several measures to ensure that all data is secure, including encryption and tokenization.
Cons
Cost: One of the biggest downsides to the Heartland Restaurant system is the cost. The monthly cost of the system is not very expensive, but the add-ons and hidden costs can grow quickly, which can be a barrier for small businesses or those on a tight budget. The upfront cost of the system will vary depending on the specific features and services that are needed.
Lengthy contract and early-termination fee: Heartland's contract requires a three-year commitment period. Terminating the contract before the agreed-upon period will incur an early termination fee (ETF) of $295 for each location.
Limited third-party integrations: The system does not offer as many third-party integrations as some of its competitors. This means that businesses may have to use multiple systems to meet all of their needs.
Learning curve: While the system is user-friendly, there may be a learning curve for businesses that are transitioning from a different POS system. This can be a challenge for businesses that are already operating at full capacity.
Limited reporting: Heartland has basic reporting features when it comes to tracking sales, labor and menu reports, but it just can't compare to POS systems like Lightspeed Restaurant.
Customer support: Some users have reported that the customer support offered by Heartland POS is abysmal. This can be frustrating for restaurants that are experiencing technical difficulties or need assistance with the system.
Compatibility: The system may not be compatible with certain hardware or software, which can be a limitation for businesses that have already invested in certain technology.
Heartland Pricing
Rating: Fair
Heartland Restaurant has three different pricing tiers to accommodate businesses of all sizes. The pricing is based on the number of licenses and terminals needed for the business. There are three pricing tiers available, which are designed to cater to the needs of different businesses.
Also, Heartland is one of those POS companies that makes finding their pricing like a scavenger hunt. They want you to call for custom pricing instead of providing a simple pricing structure first and going from there. Even so, we found the simple pricing structure and monthly plans for you.
Basic Plan – $39/mo.
Designed for small businesses, the basic plan offers basic features such as order management, employee management, and customer loyalty programs. This plan is priced at $39 per month, per license. It's suitable for small restaurants or bars that do not require advanced features.
Standard Plan – $69/mo.
Designed for medium-sized businesses. The Standard plan offers basic features and advanced features such as inventory tracking, real-time monitoring, and scheduling capabilities. This plan is priced at $69 per month, per license. This plan is suitable for medium-sized restaurants or bars that require advanced features.
Premium Plan – $99/mo.
Designed for large businesses. It offers advanced features such as custom menu screens, tableside ordering options via handheld devices, and split checks and bills. This plan is priced at $99 per month, per license. This plan is suitable for large restaurants or bars that require advanced features and have a higher volume of transactions.
Extra Costs
In addition to the monthly cost, Heartland Restaurant also charges a one-time setup fee, which ranges from $299 to $499, depending on the plan selected. This upfront cost covers the installation, configuration, and training of the POS system.
One of the advantages of Heartland POS pricing is the flexibility it provides to businesses. Businesses can choose the pricing plan that is most suitable for their needs, and they can add or remove licenses as their business grows or changes.
However, one of the drawbacks of Heartland POS pricing is that it can be expensive for businesses that require multiple licenses and terminals. These additional costs can add up quickly, especially for businesses that have a high volume of transactions.
Payment Processing Fees
Heartland's payment processing fees are fair: 2.6% + 10¢ for in-person transactions. They do not list "credit card not present" transactions, but we have heard they are comparable to other payment processing fees and services.
Heartland Restaurant Hardware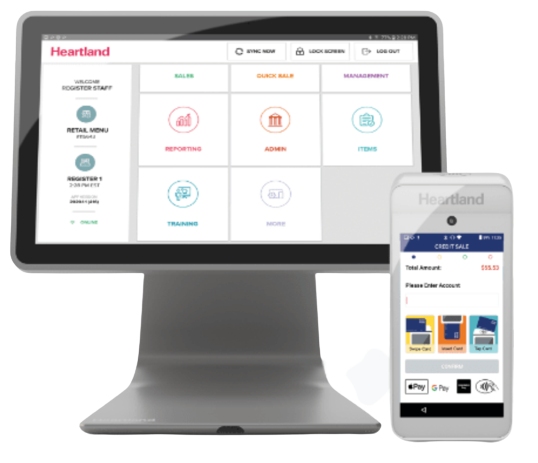 Here is a breakdown of the POS hardware components and hardware costs that make up the Heartland Restaurant POS system. If you're not sure which POS hardware you need, make sure to find out.
Touchscreen Terminals – $1,295 – $1,895
The touchscreen terminals are the primary hardware component of the Heartland POS system. They are designed to be easy to use and intuitive for both employees and customers. Heartland Restaurant offers two models of touchscreen terminals: the H5000 and the H9000.
The H5000 is a compact, all-in-one terminal that includes a touchscreen display, card reader, and receipt printer. The H9000 is a larger, more powerful terminal that offers a higher level of performance and additional features. The price for the H5000 starts at $1,295, while the H9000 starts at $1,895.
Handheld Devices – $695
Heartland Restaurant also includes handheld devices that allow servers to take orders and process contactless payments. These devices are designed to be lightweight and durable, with a long battery life. The additional cost for the handheld devices starts at $695.
Printers – $275 – $375
Heartland POS includes two types of printers: receipt printers and kitchen printers. The receipt printers are designed to print receipts for customers, while the kitchen printers are designed to print orders for the kitchen staff. Both types of printers are designed to be reliable and durable. The price for the receipt printer starts at $275, while the kitchen printer starts at $375.
Cash Drawers – $195+
The cash drawers that are designed to be secure and easy to use. They are available in different sizes to accommodate different levels of cash volume. The price for the cash drawers starts at $195.
Barcode Scanners – $195+
The barcode scanners that are designed to be fast and accurate. They can be used to scan barcodes on products or to scan customer loyalty cards. The price for the barcode scanner starts at $195.
Kitchen Display System (KDS)
The extra cost for the Heartland Restaurant KDS is not transparent on the website, so you would need to call to get custom pricing.
Integrations & Add-ons
Heartland Restaurant POS integrations and add-ons are additional restaurant POS software features that can be integrated with the system to enhance its functionality and improve business operations.
It's important to understand that even the best restaurant pos systems have integrations and add-ons that cost extra. This allows restaurant owners to pick and choose what they want and what they feel will give their restaurant business the best return on investment.
Payment Processing Integrations
Heartland Restaurant POS comes with its own payment processing service (which would make sense, considering they are called Heartland Payment Systems). However, businesses can also integrate with other third-party payment processors such as PayPal, Stripe, and Square. This allows businesses to provide customers with a wider range of payment options and ensures that transactions are processed smoothly and securely.
Accounting Software Integrations
Heartland POS integrates with accounting software such as QuickBooks, Xero, and Sage. These integrations allow restaurants to automate bookkeeping processes, generate financial reports, and reconcile transactions with ease.
Customer Loyalty Program
Heartland Restaurant POS offers various loyalty program integrations such as Loyalzoo, FiveStars, and LoyaltyPlant. These integrations help businesses to retain customers by offering rewards, discounts, and other incentives that encourage repeat business.
Inventory Management Add-ons
Heartland POS can be integrated with various inventory management add-ons such as Stitch Labs, TradeGecko, and SkuVault. None of these are considered top-of-the-line when it comes to inventory management software, but at least it's something.
Marketing Automation Tools
Heartland is able to integrate with a series of marketing automation tools, such as Mailchimp, HubSpot, and Constant Contact, which can help businesses to streamline their marketing efforts. These integrations allow businesses to create targeted campaigns, automate email communications, and track customer engagement.
Staff Management
Heartland POS can be integrated with various restaurant staff management add-ons such as Deputy, TSheets, and When I Work. These add-ons help businesses to manage employee schedules, track time and attendance, and streamline payroll processes.
Customer Relationship Management (CRM)
Heartland POS has CRM integrations which allow restaurants to track customer data, create targeted marketing campaigns, and provide personalized experiences.
Heartland Customer Service
Rating: Poor
Heartland Payment Systems can't seem to recover from their poor reputation ever since being accused of charging hidden fees to restaurants unaware. In addition to restaurant owners complaining about long wait times and representatives simply not caring about their needs, the technical issues continue to mount. This includes slow processing times, system crashes and errors.
The worst part of their customer service comes from shady practices, broken promises and vague definitions of what it is you're getting for your money. This pattern can be found all over the Internet, as well as with bar and restaurant owners we have spoken with.
With that said, here are the technical customer service aspects Heartland offers:
24/7 phone support
Email support
Support tickets
Online knowledge base
Video tutorials
Restaurant POS System FAQ's
How much does a restaurant pos system cost?
A basic POS system for a small business may cost around $1,000 to $2,000 for hardware, software, and installation. More complex systems with advanced features and capabilities, such as inventory management, customer relationship management, and analytics, can cost significantly more, ranging from $5,000 to $7,000 or more.
However, a good restaurant POS system should be able to produce a high ROI (return on investment) which will increase your profits and should pay for the cost and a whole lot more.
How do I select the right restaurant pos system?
Selecting the best restaurant pos system for your business can be an overwhelming task. The best thing you can do is schedule demos so you can see how the system works and you can ask all the right questions to find the perfect fit for your restaurant. Based on your type of business (full-service restaurant, quick-service restaurant, etc) and the size of your venue, you will need to ask questions to discover the best restaurant POS system for you and your business.
What questions should I ask during a demo for different POS systems?
You should definitely be thorough when it comes to looking for the best restaurant pos system. Instead of listing all of the questions right here, you can go here to get a list of all the questions you should be asking before purchasing any of the POS systems out there.
Buying a POS System? [10 Questions You Need to Ask]
What features should a restaurant pos system have?
Most pos systems have similar features. The difference comes in how they charge you. Some include many of the features in their pricing tiers, while others charge for features as POS integrations and add-ons.
With that said, these are the most common POS features you should be looking for:
Online Ordering
Menu Management
Table Management
Payment Processing
Loyalty Programs
Staff Management
Reporting and Analytics
Which restaurant POS system is best?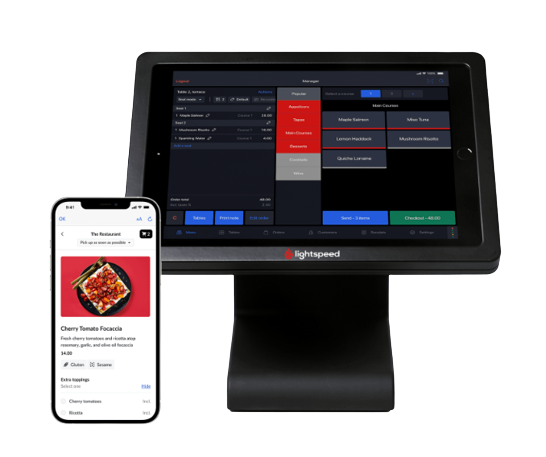 Overall, after all my thousands of hours using and testing POS systems and speaking with owners and managers, I have found these four to be the best restaurant POS systems. You can click on any of them to schedule a demo, which I highly recommend doing.
Best Overall: Lightspeed for Restaurants
Best Runner-Up: GoTab
Best Customer Service: Rezku POS
Honorable Mention: Toast POS
Final Word
If you're looking for the best POS system for your restaurant, Heartland Restaurant POS is not going to be it. It you're looking for a POS system to do the job, then you could take a flyer, but not sure why you would when it's not cheaper than the best restaurant POS systems on the market.
Simply looking on most review sites for Heartland POS, under the category "Value for the Money", they get so many one and two star ratings it's scary. If you've heard or experienced something different, then by all means go for it. We wish you the best of luck either way.
Subscribe to My YouTube Channel
Get tips, tricks and strategies to help you run a world-class business.
Cheers,
TheRealBarman Team